Not long to go until the EU FrailSafe final event in Brussels, 3 April 2019. From now on you will be able to get to know one of our partners every week and learn more about their expertise and involvement.
Do not miss the opportunity to meet them!
Today we are allowed to introduce you to our clinical and geriatric expert partner INSERM, based in France and its activities within the FrailSafe project. You do not want to miss that read! Check it out!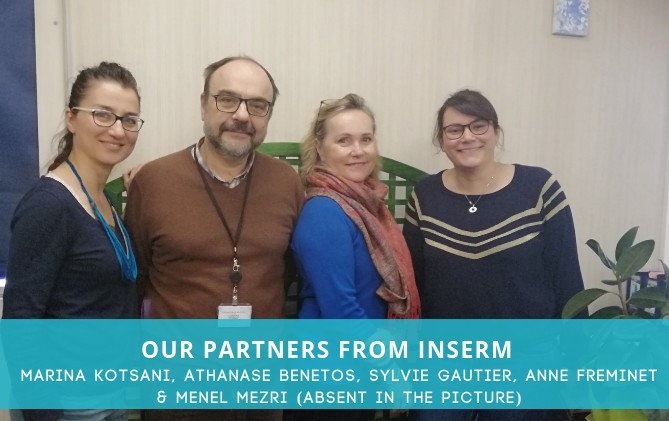 1. What is your role in the EU FrailSafe project?
INSERM's role as, one of the three clinical centers involved in the project, is to recruit and follow up 170 participants during all the way long of the study's duration. We assure clinical evaluations, application of the FrailSafe system during scheduled home visits, collecting valuable participants' feedback and providing individualized recommendations according to collected data.
Moreover, INSERM has been actively involved in the elaboration of clinical protocol in the beginning of the study and contributed in the construction of the eCRF (Electronical Case Report Form) platform. Globally, we have provided feedback to consortium mostly on clinical related issues and geriatric expertise.
2. From your perspective – what makes EU FrailSafe innovative?
Frailty evaluation and management is a challenging issue in geriatrics. Up to nowadays we are limited in accurately, early, rapidly and efficiently detecting frailty and closely monitoring its evolution. This undoubtedly negatively impacts efficacy in frailty's prevention and management and, most importantly, preservation of an older person's functional autonomy.
The FrailSafe integrated system aspires to contribute to earlier and more accurate frailty detection and the prediction of adverse outcomes, allowing preventive measure to be applied in time, which is highly clinically relevant.
Moreover, the potential of almost real-time monitoring under ecological conditions and the collection of an enormous amount of data simultaneously is a feature unique to systems employing advanced technologies, contrary to conventional punctual clinical evaluation. Thus, the FrailSafe project comes to respond to an unmet need in older people's care.
3. The project is coming to an end – what are your main contributions to the final EU FrailSafe solution?
INSERM has tended to put in practice the quite ambitious vision that inspired the conception of the FrailSafe project. We challenged ourselves as medical doctors and clinical investigators by testing the introduction of an innovating approach to our everyday geriatric practice. We challenged our older patients by proposing them new technologies which they we not necessarily familiar with. We stayed open-minded towards the possibility that new technologies could provide an added value or even prove to be more efficient than classical clinical "gold standards". Most importantly we tried to communicate to our older patient the novel possibilities in health care and in the service of their wellbeing integrated in the FrailSafe final project.